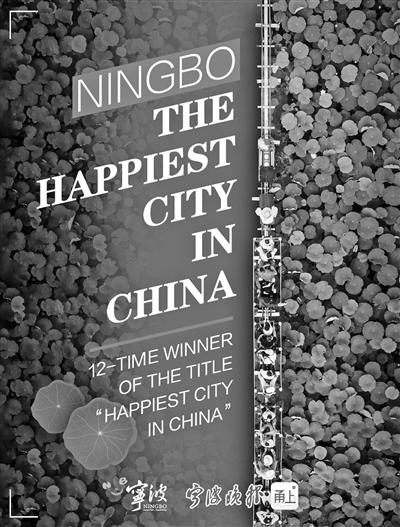 Ningbo was rated as one of the happiest cities in China in 2021, according to the Happy Cities of China Forum recently held in Beijing. This coastal city was ranked third among provincial capitals and cities with independent planning status nationwide, and it is the 12th time for Ningbo to be selected in this ranking.
  近日,2021中國幸福城市論壇在北京舉行,我市獲得最具幸福感城市(省會及計劃單列市)第三名,這是寧波第12次入選"中國最具幸福感城市"。
  Yinzhou District in Ningbo was awarded as the happiest district; Yuyao and Cixi were included among the happiest county-level cities in the nation. In addition, Yinzhou District and Cixi were ranked top on the list of "Cities (Districts) with the Strongest Entrepreneurs' Sense of Happiness in 2021".
  鄞州、余姚、慈溪等3個區縣(市)同時入選"中國最具幸福感城市"(縣級市、城區),其中,鄞州、慈溪還獲評企業家幸福感最強市(區)。
  For its strenuous efforts in building up a prosperous society with a higher sense of gain, happiness and safety, Ningbo received numerous compliments in this forum.
  This can be seen in the praise of Feng Yingbing, secretary of the Party Committee and editor-in-chief of Outlook Weekly (Liaowang Zhoukan). "Ningbo sets a good example throughout the country of constructing a well-governed city. It starts with accommodating citizens with resting places in public recreation areas without any hygienic concerns; fastidious in this work, the city succeeds in forging a harmonious and pleasant habitat."
  論壇上,寧波被多次提及。作為"以高效能回答治理問卷,打造現代善治之城"的案例,瞭望周刊社黨委書記、總編輯馮瑛冰評價說,寧波以"席地而坐"為抓手,全面打造"最干凈城市",讓城市的每一個角落都整潔有序,用一針針"繡花"功夫,繡出和諧宜居的"城市畫卷"。
  When interpreting the "2021 China Happy Cities Report," Su Huizhi, member of the Standing Committee of the Party Committee and deputy editor-in-chief of Outlook Weekly, emphasized sustainability and the development of happiness in cities. Cities such as Chengdu, Hangzhou, and Ningbo have consistently been ranked as the happiest cities in China. Among the listed provincial capitals and major cities, the top 3 happiest cities in China in 2021 are still Chengdu, Hangzhou, and Ningbo.
  在解讀《2021中國幸福城市報告》時,瞭望周刊社黨委常委、副總編輯蘇會志提到,城市的幸福是可持續的,更是可發展的,老牌幸福城市堅守著幸福,成都、杭州、寧波等城市幾乎每次都在幸福城市之列,在省會及計劃單列市層級上,2021年最具幸福感城市的前三名依然是成都、杭州、寧波。
  In the currently most authoritative and influential ranking of its kind across China, the cities were selected by Oriental Outlook magazine and the think tank Liaowang Institute, both run by Xinhua News Agency.
  據悉,"中國最具幸福感城市"調查推選活動由新華社《瞭望東方周刊》、瞭望智庫共同主辦,是目前中國極具影響力和公信力的城市調查推選活動。
  Themed "Happiest Cities on the 100th Anniversary of the Founding of CPC", this year's survey and selection focused on presenting Chinese cities' achievements in people-centered and high-quality urban development.
  本年度調查推選活動以"百年紅、幸福城"為主題,集中展現城市以人民為中心、推動高質量發展的成就。
  Notably, the 2021 ranking highlighted the happiness of entrepreneurs as another vital index to explore the urban gene of nurturing individual manufacturing champions and unicorn enterprises and figuring out the driving force of harmonious relations between entrepreneurs and cities. Among the honored places are Yinzhou District and Cixi in Ningbo.
  值得一提的是,在今年的幸福城市調查推選活動中,特別關注了企業家群體的幸福感,探索孕育"專精特新"小巨人企業的幸福城市基因,揭示企業家和城市共同成長、相互成就的幸福原動力。寧波的鄞州、慈溪一起獲評企業家幸福感最強市(區)。
  Reporter: Zhu Lin
  Translator: Mei Jie
  Proofreaders: Huang Dawang, Puyang Rong, Jason Mowbray